THE HERMITS SACRED MOUNTAIN
The lands that today constitute the Appellation of origin Montsant have been historic witnesses of a life in harmony between man´s activity and respect for the environment where he worked. As its name indicates it is a holy place that distils spirituality.
For some reason this sierra has been, and we would say that even today is, a refuge for people that have wanted to give a mystic meaning to their lives. An example of this are the many hermits that lived in these rugged mountains where you can find hermitages, chapels and caves around any corner.
In the Roman times, wine was already elaborated in these lands but we can assure that it was the Carthusian monks who at the end of the 12th C really promoted wine growing in all this region.
For ages wine was continually transported along the Carthusian roads to the surrounding villages and monasteries. There was also commerce of these wines from Reus to France, destined to traders in Roussillon and Bordeaux. All this permitted the Montsant wines to receive great international acknowledgement in the different Universal exhibitions held at that time, till the appearance of "phylloxera" in the area at the beginning of the 20th C.
This is a land where landscape and wine have always been united. With the creation of the PDO Montsant in 2001, a new impulse is being given to the economic activity on which nearly 20 towns live today.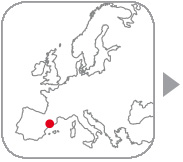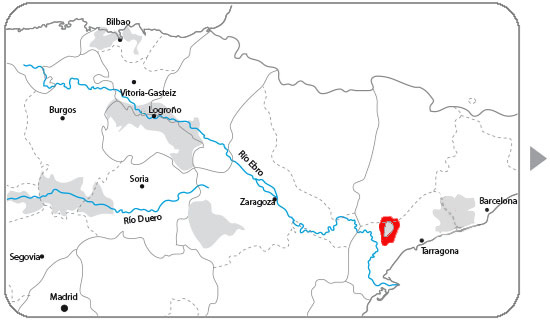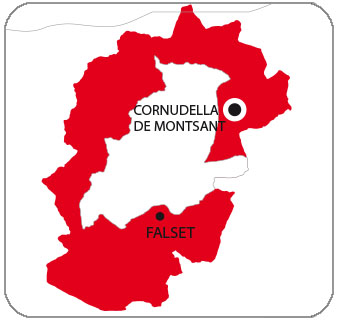 Consequence of a centennial tradition
The grown area does not reach 2.000 Has, with a global production of nearly 10 million grape kg. More than 50 % is bottled for export markets where USA and Germany are the main consumer countries.
Loyal to the bond with the territory, the identity off the wines comes from a clear bet on the original varieties, mainly garnacha (35 %) and cariñena (30%), also known as mazuelo, grapes. 90 % of the wines produced are red wines, having a cooler ground, makes the nuances of the varieties more present. As the experts say: where variety identity has been preserved the quality of the wine is superior to that of other areas that have not done so.
DISCOVER OUR MONTSANT PDO WINES

D.O. MONTSANT
A divine legacy: the road to perfection. Outstanding wines consequence of a centennial tradition and reflection of the territory.
Montsant: Spirituality and wine united in a privileged environment